Hey everyone!
It's that time of year where everyone's rounding up the best books of the year, whether it's the best books that were released, books that sold the best, or the best books they've read. I am going to do the same here. At the time of writing, I've read 37 books this year and I'm thinking I will get up to 40 before we close the book on 2016. Originally, I thought I might do a top ten list to showcase the best books of the year. But if I reach my end goal of 40, that would be roughly 25% of the books I've read this year. While I've read a lot of fantastic books this year, I feel like I didn't read that many absolutely amazing books and the quality of the list would suffer. So, in the style of one of my favorite podcasts, Rank Em Up, I've decided to do a top five list, going in descending order (5-1) including a few honorable mentions that are listed in no particular order.
Top Five Books Read in 2016
Five. Sorcerer to the Crown by Zen Cho
There were a decent amount of books that could have sat in this spot but Sorcerer to the Crown takes the cake. It combines so many different things I love (magic, fantasy, the regency era, romance). It's about Zacharias Wythe a former slave, who has been freed and ascended to one of the highest ranks in magical society, Sorcerer Royal. However, his ascension. is marked by the fact his predecessor- who was very much a father figure to  him- died under mysterious circumstances. Plus, the magic sources of England are drying up (a problem for which Zacharias is being blamed but he did  not cause). On his way to Fairyland (the place magic dwells) he comes into contact with an unusual woman, Prunella, who is desperate to escape the girls school she's been teaching at and has recently come into contact with unusual power source. Together, they help slowly restore magic to England turn regency society on it's head. This is a very engrossing read and I cannot wait for the next book (why does it have to be so far away?).
Four. Burn Baby Burn by Meg Medina
I read this over the Booktubeathon this summer as my book to read after dark. Had I not had another book going, that challenge would have been so, so difficult. We follow Nora Lopez as she is just trying to get through her last year of high school. Her brother, Hector, is growing more uncontrollable and unstable each day and there's a killer on the loose in 1977 New York. When I read the premise of this book, I thought the summer of Sam would play a bigger role than it actually did, but I still really enjoyed this. I'm glad it was more focused on Nora and what was going on her life over the murders.
Three. An Ember in the Ashes by Sabaa Tahir
This is another book I read during the Booktubeathon and absolutely loved. I had initially avoided this title since when it came out, I was just getting back into the Bookternet after graduating college and was hesitant about all of the hype it was getting. While I don't necessarily regret that decision, this book is absolutely worth the hype. This book is told in multiple perspectives, through Laia, who becomes a slave in exchange for the rescue of her brother from prison, and Elias, one of the best soldiers in his class. Based on ancient Rome, this is another really engrossing read and the ending had be so excited for the next book!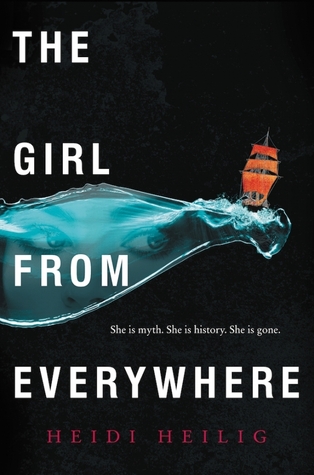 Two. The Girl From Everywhere by Heidi Heilig
This book had everything I love in it. Time travel, ships. history, maps, complicated relationships. Everything. Nixie and her father travel through time and space on  a ship. As long as they have a map, they can go anywhere- real or fiction. Her father is obsessed with obtaining one map- to 1868 Honolulu, where Nix's mother is and where Nix was born. But doing so could erase Nix's very existence. I've talked about this book quite a bit on here but that's because I absolutely loved it and cannot wait for the next one.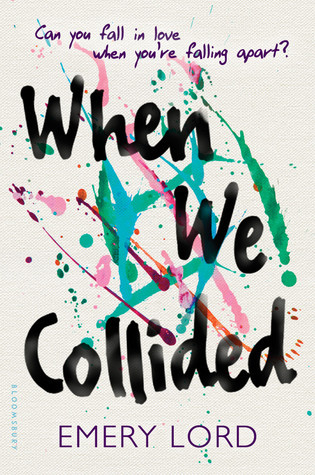 One. When We Collided by Emery Lord
Ahhh this book. Easily my favorite find of the year both for the book itself and the author. Emery Lord writes some of the most realistic contemporary out there on par with those like Dessen. I read and loved all of her books this year and I've already pre-ordered her 2017 release.
Why When We Collided though? It spoke to me in a way no other book did. I can't really describe it or explain it. While the romance is the focus of this book, there is so much more going on with Vivi and Jonah. While I didn't love all the characters 100% of the time (nor are you supposed to I think), I understand why things were written the way they were. The ending is what really sells this book for me and there are some passages I revisit regularly.
Honorable Mentions:
One. Throne of Glass by Sarah J Maas  Way back when I read this in April, I loved it and really enjoyed it. However, as the series has gone on, I have found myself enjoying these less and less. I don't know if it's me or if it's the books. (I know opinions on Maas tend to be very polarizing- you either love her or hate her). I got through Heir of Fire just barely and didn't finish Queen of Shadows. At this point, I am really just not interested in reading any more of her books. But I look back at this one fondly, even if my interest in the series deteriorated over time.
Two. The Start of Me and You by Emery Lord 
Yes, another Emery Lord book! I read all of her other books this year, this another one that stands out for me. This one is a quieter book; it takes place over the course of a school year after Paige has decided to "put herself out there" after the death of her boyfriend one year ago. The friendship in this book is like no other as is the romance. The only reason it didn't make the list is that it didn't seem fair to have to Emery Lord books in the top five and it didn't impact me in the ways When We Collided did. But it was still an enjoyable read all the same.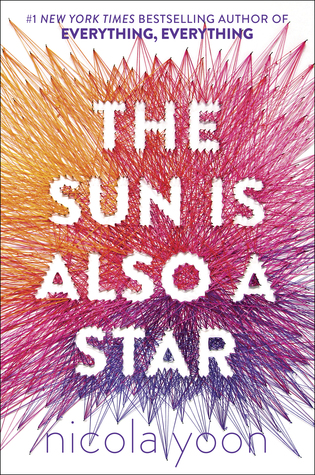 Three. The Sun is Also A Star by Nicola Yoon
This is a very recent read for me- I actually finished it earlier this month. This was my first Nicola Yoon and I really enjoyed it! Yes, it is very instalove so if you don't like that, you probably won't like this. What I particularly enjoyed was the format of the book. In addition to the two main characters, we also get the perspective of the people they meet over the course of that day and the universe itself. While the ending wasn't super realistic, I didn't go into this book looking for realism.
Looking back over this list, it's very YA heavy. Young Adult is definitely my comfort zone when it comes to reading, so over the course of 2017 I am hoping to move outside my comfort zone some more in 2017. But of course, there is still a lot of YA I want to get to.
What are some of your favorite books you read this year? Let me know in the comments.