Hey everyone!
November was not the greatest reading month for me. While I did read four books, two of them were finished on a twenty-two hour road trip to Florida. This was due to a lot of different things this month garnering my attention. I spent the first week writing my NaNoWriMo novel, which I ended up abandoning after ten thousand words due to life reasons. Then, I was busy working and gearing up to go on vacation at the end of this month. And of course, Pokemon Sun and Moon came out and even though I think I am the last person on to beat the game, I'm really enjoying playing through it. (I'm also really enjoying watching everyone try to figure out the VGC17 meta while I'm just trying to build a decent ingame team.) Obviously, Pokemon has taken up a lot of my free time this month. I have really enjoyed everything I've read this month, which is a nice bonus. But onto the books!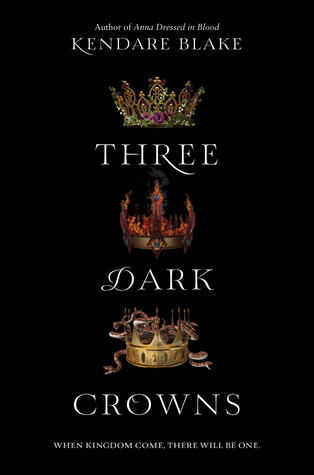 The first book I finished this month was Three Dark Crowns by Kendare Blake. I feel like I talked about this book nonstop while I was reading it- on Litsy, on Instagram, on everything. It's about a set of triplets who are raised separately in order to be trained to be queen but also to kill each other for the crown. This book definitely isn't for everyone; it's not plot heavy and is very focused on developing why the island does the things it does, how supernatural gifts, and character arcs. I personally really enjoyed learning how the world in the book worked and watching each of the girls develop as they approached the idea of having to kill their sisters. This book also took a couple turns I didn't really expect, which makes the wait for the second book much more unbearable. If you enjoy supernatural books and books that are mainly character driven, I'd definitely consider picking this one up.
The next book I read was You Will Know Me by Megan Abbott. I actually started this book back in September, got about 20% in, and then out it down to read something else. It was pitched to be as a good book to read during the Olympics by the internet, but it's not that focused on the Olympics but on competitive gymnastics and the sort of life that having a child gifted in that area leads. Devon is the gymnast, and Katie her mother. Their primary focus is keeping Devon on track to reach her fullest potential, as long as that's what she wants. Katie doesn't really understand her daughter- she loves her but Devon's a mystery to her. But when tragedy strikes their close-knit gymnastic community, things slowly begin to unravel. This definitely had some thriller vibes to it, which got me more interested in the genre as a whole. Not a book I'll revisit necessarily but one I definitely enjoyed reading and kept me reading.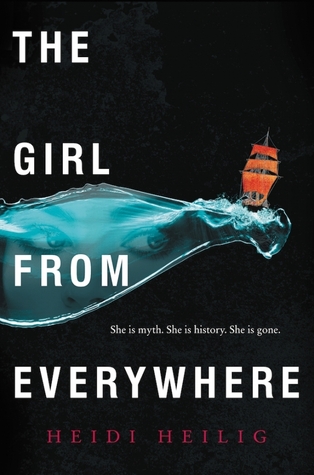 After finishing that, I finally picked up The Girl From Everywhere by Heidi Heilig, which was an utter delight for me and possibly one of my favorite books I've read this year. It's about girl travelling through space and time with her father, who is trying to find a way to prevent her mother's death. They can only travel with a drawn map so this proves to be a challenge. This book deals with family issues, friendship, romance, the whole shebang. Our main character, Nix, is half-Chinese and the book takes place in late Victorian Honolulu and you can really tell the author did her research because you get a real sense of place from Honolulu. I am amazed it took me so long to get to this because I absolutely loved it and need the sequel now please.
The last book I read was March: Book One by Representative John Lewis, Andrew Aydin, and Nate Powell. Since the third book won the National Book Award in Young People's Literature this year, I figured it was time I start this series. It did not disappoint. (Check out Representative John Lewis's acceptance speech. which makes me tear up just thinking about it.) This first book focuses on Lewis's childhood growing up in rural Alabama, going to school in Nashville, forming the Nashville Student Movement, and ends just before the march on Washington in 1963. I breezed through this in a couple of hours, and it had me wishing I had gotten all three volumes from the library at once. This first book is a powerful read and it really got me thinking. I can't wait to read the next two volumes.
As for current reads, I recently picked up Girl on the Train by Paula Hawkins while on vacation. We went to the library to pick up some books for my husband to read and this book was available for me to pick up. I had forgotten I had even put it on hold. I read about a hundred pages while on vacation and while it's keeping me reading and I'm enjoying it, I'm not really drawn to it. I'm wondering if the movie trailer has spoiled too much for me. I have a strong sense of what I think will happen, but I kept thinking that with You Will Know Me and I was wrong multiple times.
The other book I've picked up recently is The Sun is Also A Star by Nicole Yoon. It's my first book of hers and the main thing I know about her books is that they are instalove, which I personally don't mind if it's well done, which I feel like this one is. I like how she alternates perspectives between the two main characters  and how she jumps into the perspectives of other characters too.
What books did you read in November? Let me know in the comments!