Hey everyone!
Last month, I started a new series on books I'm excited about that are being released that month and I'm excited to keep that series going! Even though I'm a little late getting this up (all of these books have actually already come out by the time this goes up). Rest assured, I am still really excited about these titles!
The Amateurs by Sara Shepard (11/01)
As soon as Seneca Frazier sees the post on the Case Not Closed website about Helena Kelly, she's hooked. Helena's high-profile disappearance five years earlier is the one that originally got Seneca addicted to true crime. It's the reason she's a member of the site in the first place.
So when Maddy Wright, her best friend from the CNC site, invites Seneca to spend spring break in Connecticut looking into the cold case, she immediately packs her bag. But the moment she steps off the train in trendy, glamorous Dexby, things begin to go wrong. Maddy is nothing like she expected, and Helena's sister, Aerin Kelly, seems completely hostile and totally uninterested in helping with their murder investigation.
But when Brett, another super user from the site, joins Seneca and Maddy in Dexby, Aerin starts to come around. The police must have missed something, and someone in Dexby definitely has information they've been keeping quiet.
As Seneca, Brett, Maddy, and Aerin begin to unravel dark secrets and shocking betrayals about the people closest to them, they seem to be on the murderer's trail at last. But somewhere nearby the killer is watching . . . ready to do whatever it takes to make sure the truth stays buried.
I've never been really into Sara Shepard's books before, but I've always been interested in the concepts. Same goes for this one. It looks like it might have some thriller-y vibes I'll enjoy. And who knows, maybe it'll get me into her other books.
Saving Hamlet by Molly Booth (11/01)
Emma Allen couldn't be more excited to start her sophomore year. Not only is she the assistant stage manager for the drama club's production of Hamlet, but her crush Brandon is directing, and she's rocking a new haircut that's sure to get his attention. But soon after school starts, everything goes haywire. Emma's promoted to stage manager with zero experience, her best friend Lulu stops talking to her, and Josh–the adorable soccer boy who's cast as the lead–turns out to be a disaster. It's up to Emma to fix it all, but she has no clue where to start.
One night after rehearsal, Emma stays behind to think through her life's latest crises and distractedly falls through the stage's trap door . . . landing in the basement of the Globe Theater.
It's London, 1601, and with her awesome new pixie cut, everyone thinks Emma's a boy–even Will Shakespeare himself. With no clue how to get home, Emma gamely plays her role as backstage assistant to the original production of Hamlet, learning a thing or two about the theater, and meeting an incredibly hot actor named Alex who finds Emma as intriguing as she finds him. But once Emma starts traveling back and forth through time, things get really confusing. Which boy is the one for her? In which reality does she belong? Will Lulu ever forgive her? And can she possibly save two disastrous productions of Hamlet before time runs out?
This has a lot of elements I enjoy in this book. Shakespeare and time travel! Although I wasn't in theater in high school, I had friends who were and I always find stories with that element really interesting. I also love the fact she ends up doing the same thing in 1601 as she does present day. This seems like it will be a fun read and I'm really looking forward to it.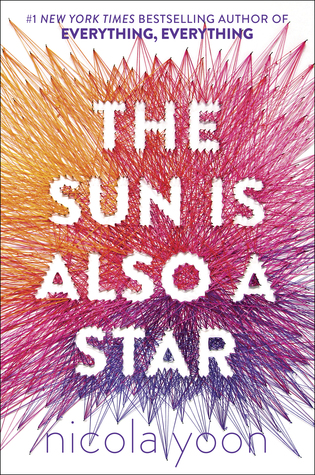 The Sun is Also a Star by Nicola Yoon (11/01)
Natasha: I'm a girl who believes in science and facts. Not fate. Not destiny. Or dreams that will never come true. I'm definitely not the kind of girl who meets a cute boy on a crowded New York City street and falls in love with him. Not when my family is twelve hours away from being deported to Jamaica. Falling in love with him won't be my story.
Daniel: I've always been the good son, the good student, living up to my parents' high expectations. Never the poet. Or the dreamer. But when I see her, I forget about all that. Something about Natasha makes me think that fate has something much more extraordinary in store—for both of us.
The Universe: Every moment in our lives has brought us to this single moment. A million futures lie before us. Which one will come true?
Funny story, I had been seeing so much praise about this book I actually thought it was already out but when I went to place a hold on it, I realized it didn't come out until November. Even though this has a lot of instalove, I'm really interested in the premise and how everything plays out. I'll definitely be picking this one up.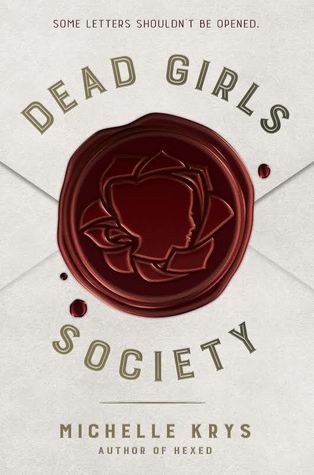 Dead Girls Society by Michelle Krys (11/08)
You are cordially invited to participate in a game of thrills and dares. Tell no one, and come alone. If you dare.
Hope is sick of everyone treating her like she's breakable. Sure, she has cystic fibrosis (basically really bad lungs), but she's tired of being babied by her mom and her overprotective best friend, Ethan, not to mention worrying about paying for her expensive medication and how she's going to afford college. And she's bored with life in her run-down New Orleans suburb.
When an invitation arrives from a mysterious group that calls itself the Society, Hope jumps at the chance for some excitement. This could be her ticket out. All she has to do is complete a few dares and she might win some real money.
But the Society isn't all it seems . . . and soon Hope finds that playing the game isn't a choice—it's a requirement.
This is another really interesting premise. I love secret society stories. I don't know much of anything about cystic fibrosis so it'll be interesting to get that angle of the story. This synopsis gives me The Disreputable History of Frankie Landau-Banks vibes, which I mentioned as a book I wanted to return to. Overall, this looks like an exciting read and I can't wait to get into it.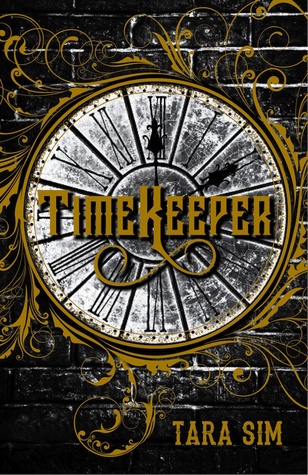 Timekeeper by Tara Sim (11/08)
Two o'clock was missing.
In an alternate Victorian world controlled by clock towers, a damaged clock can fracture time—and a destroyed one can stop it completely.
It's a truth that seventeen-year-old clock mechanic Danny Hart knows all too well; his father has been trapped in a Stopped town east of London for three years. Though Danny is a prodigy who can repair not only clockwork, but the very fabric of time, his fixation with staging a rescue is quickly becoming a concern to his superiors.
And so they assign him to Enfield, a town where the tower seems to be forever plagued with problems. Danny's new apprentice both annoys and intrigues him, and though the boy is eager to work, he maintains a secretive distance. Danny soon discovers why: he is the tower's clock spirit, a mythical being that oversees Enfield's time. Though the boys are drawn together by their loneliness, Danny knows falling in love with a clock spirit is forbidden, and means risking everything he's fought to achieve.
But when a series of bombings at nearby towers threaten to Stop more cities, Danny must race to prevent Enfield from becoming the next target or he'll not only lose his father, but the boy he loves, forever.
Ah steampunk! A genre that intrigues me, a genre I think I would super enjoy but also a job I don't read enough of. And again there's a time element in there that I also really gravitate towards. Clock towers not only tell time but control time, which means a damaged clock can mess with time and destroyed one can stop time completely. Again, this is another one where the premise is super interesting, and it definitely grabs my interest.
The Nerdy and the Dirty by B. T. Gottfred (11/15)
Pen Lupo is sick and tired of hiding who she is. On the outside, Pen is popular, quiet, and deferential to her boyfriend. On the inside, however, Pen is honest, opinionated–and not quite sure that she's like other girls. Do they have urges like she does?
His classmates may consider him a nerd, but Benedict Pendleton knows he's destined for great things. All he has to do is find a worthy girlfriend, and his social station will be secured. Sure, Benedict is different–but that's what he likes about himself.
When fate intervenes, both Pen and Benedict end up at the same vacation resort for winter break. Despite their differences, the two are drawn together. But is there such a thing as happily ever after for a nympho and a nerd? 
Firstly, this cover is adorable. I really enjoy unlikely love stories and I think this one will ring those bells for me.  The way both of these characters are presented is really appealing to me and I'm excited to see the romance develop!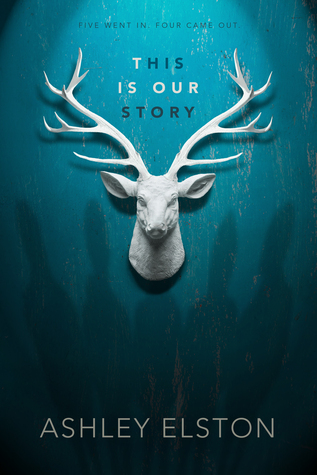 This is Our Story by Ashley Elston (11/15)
No one knows what happened that morning at River Point. Five boys went hunting. Four came back. The boys won't say who fired the shot that killed their friend; the evidence shows it could have been any one of them.
Kate Marino's senior year internship at the District Attorney's Office isn't exactly glamorous—more like an excuse to leave school early that looks good on college applications. Then the DA hands her boss, Mr. Stone, the biggest case her small town of Belle Terre has ever seen. The River Point Boys are all anyone can talk about. Despite their damning toxicology reports the morning of the accident, the DA wants the boys' case swept under the rug. He owes his political office to their powerful families.
Kate won't let that happen. Digging up secrets without revealing her own is a dangerous line to walk; Kate has her own reasons for seeking justice for Grant. As she and Stone investigate—the ageing prosecutor relying on Kate to see and hear what he cannot—she realizes that nothing about the case—or the boys—is what it seems. Grant wasn't who she thought he was, and neither is Stone's prime suspect. As Kate gets dangerously close to the truth, it becomes clear that the early morning accident might not have been an accident at all—and if Kate doesn't uncover the true killer, more than one life could be on the line…including her own.
Not gonna lie, as someone who has family who goes hunting, the possibility of the premise of this novel freaks me out (as it should). But I think in part that's what draws me to this story. Plus, it's a story of uncovering small town corruption, which I also find fascinating.
Those are some releases I'm most excited about for November! What are you excited to read the remainder of this month? Let me know in the comments!