Hey everyone!
Today I'm bringing you another readathon TBR post! I'm going to be participating in Deweys' 24 hour Readathon on October 22nd. The idea behind this readathon is to basically read as much as possible in twenty-four hours. Thankfully, I have this day off from both jobs and while I am sure there are some things I'll end up having to do, I am planning to get so much reading done.
Another fun thing about this readathon is that it starts at the same time everywhere, whereas others usually start by timezone. Go here to find out what your start time is. For me, this readathon starts at 7 am, which is perfect as it's a time I can reasonably be up by and ready to read by, even though that is earlier than I would like to get up for a Saturday.
Before we get into the books I think I'll be reading, I wanted to kinda explain my game plan going into this readathon. Because I have the day off, I don't have to worry about silly things like work getting in my way. But I will have to plan some stuff accordingly since I have dinner plans and should probably do some other stuff around the house. So I'm going to try to alternate between reading and doing stuff throughout the day. I think breaking it up like this will help me not get tired of reading or get burnt out. I'm also not reading a whole lot leading up to the readathon. I want to finish the book I'm currently reading, if I have time, but that's about it.
Now onto the books! If you follow me on Litsy (an awesome bookish app that's kinda a combination of Goodreads and Instagram) you may recognize some of these from a library haul a couple months ago.  I haven't been reading a whole lot recently (not a slump because I don't really believe in them) since I hit my reading goal for the year. I'm kinda using this readathon as a way to jump back into reading for a bit before the holiday season gets too hectic. Obviously, these are listed in no particular order.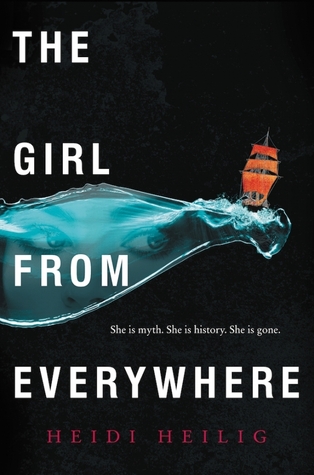 One. The Girls from Everywhere by Heidi Heilig
Nix has spent her entire life aboard her father's ship, sailing across the centuries, across the world, across myth and imagination.
As long as her father has a map for it, he can sail to any time, any place, real or imagined: nineteenth-century China, the land from One Thousand and One Nights, a mythic version of Africa. Along the way they have found crewmates and friends, and even a disarming thief who could come to mean much more to Nix.
But the end to it all looms closer every day.
Her father is obsessed with obtaining the one map, 1868 Honolulu, that could take him back to his lost love, Nix's mother. Even though getting it—and going there—could erase Nix's very existence.
For the first time, Nix is entering unknown waters.
She could find herself, find her family, find her own fantastical ability, her own epic love.
Or she could disappear.
This one has been on my radar for awhile now. It was featured on my fall tbr list. Basically, it combines two of my loves: ships and time travel. I have a weakness for any book having to do with time travel. It's something I'm super excited to read, so I think it will be relatively be easy to get through in a limited amount of time. Plus, the cover is beautiful.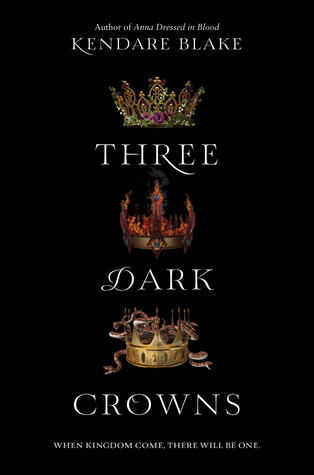 Two. Three Dark Crowns by Kendare Blake
Every generation on the island of Fennbirn, a set of triplets is born: three queens, all equal heirs to the crown and each possessor of a coveted magic. Mirabella is a fierce elemental, able to spark hungry flames or vicious storms at the snap of her fingers. Katharine is a poisoner, one who can ingest the deadliest poisons without so much as a stomachache. Arsinoe, a naturalist, is said to have the ability to bloom the reddest rose and control the fiercest of lions.
But becoming the Queen Crowned isn't solely a matter of royal birth. Each sister has to fight for it. And it's not just a game of win or lose…it's life or death. The night the sisters turn sixteen, the battle begins. The last queen standing gets the crown.
If only it was that simple. Katharine is unable to tolerate the weakest poison, and Arsinoe, no matter how hard she tries, can't make even a weed grow. The two queens have been shamefully faking their powers, taking care to keep each other, the island, and their powerful sister Mirabella none the wiser. But with alliances being formed, betrayals taking shape, and ruthless revenge haunting the queens' every move, one thing is certain: the last queen standing might not be the strongest…but she may be the darkest.
This one was also on my fall tbr and seems like a good fit for fall. However, I've heard some mixed things about it dragging in the middle, so I don't know if it'll be the best readathon read. But I'm also really excited about reading it, so I think that would cancel out any slowness.
Three. The New Guy (and Other Senior Year Distractions) by Amy Spalding
A ridiculously cute, formerly-famous new guy dropping into your life? It's practically every girl's dream.
But not Jules McCallister-Morgan's.
I realize that on paper I look like your standard type-A, neurotic, overachiever. And maybe I am. But I didn't get to be the editor of my school's long-revered newspaper by just showing up. I have one main goal for my senior year-early acceptance into my first choice Ivy League college-and I will not be deterred by best friends, moms who think I could stand to "live a little," or boys.
At least, that was the plan before I knew about Alex Powell.
And before Alex Powell betrayed me.
I know what you're thinking: Calm down, Jules. But you don't understand. This stuff matters. This is my life. And I'm not going down without a fight.
This is not a library book, and it's a bit of departure from the previous two in that I've listed in that it's a contemporary. I got this in a book mail box back in July and I've been wanting to read it, especially with the contemporary kick I've been on.
And that's it in terms of books I hope to read! I think three is a reasonable goal for a day, especially since I'll be taking a few breaks. The best places to follow my reading are on my Twitter or on Litsy (I'm theflyingfiona there too).
Are you planning on participating in this readathon? What's on your TBR? Let me know in the comments.