Hey everyone!
Today I'm starting a new series on the blog where I talk about new releases I'm excited for in the upcoming month.  Even though we're partially through October, I'll still be listing some earlier releases. Now these aren't the only new releases for the month I'm excited about, but these are definitely the ones I am most excited about.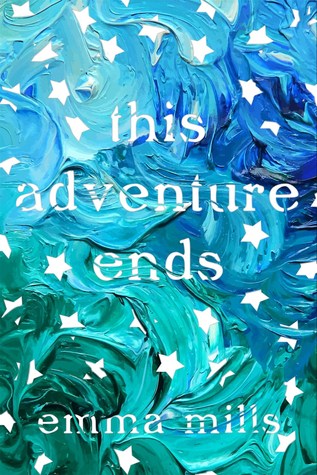 This Adventure Ends by Emma Mills (10/4)
Sloane isn't expecting to fall in with a group of friends when she moves from New York to Florida—especially not a group of friends so intense, so in love, so all-consuming. Yet that's exactly what happens.
Sloane becomes closest to Vera, a social-media star who lights up any room, and Gabe, Vera's twin brother and the most serious person Sloane's ever met. When a beloved painting by the twins' late mother goes missing, Sloane takes on the responsibility of tracking it down, a journey that takes her across state lines—and ever deeper into the twins' lives.
The synopsis for this sounds really intriguing, like it goes deeper than what it's saying. However, it also sounds like a light, adventurous read. I definitely get Paper Towns vibes from it, which I can't decide if that's a good or bad thing.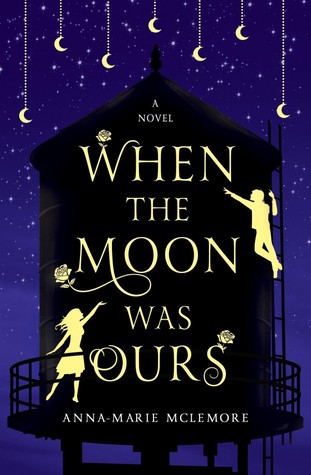 When the Moon Was Ours by Anna-Marie McLemore
When the Moon Was Ours follows two characters through a story that has multicultural elements and magical realism, but also has central LGBT themes—a transgender boy, the best friend he's falling in love with, and both of them deciding how they want to define themselves.
To everyone who knows them, best friends Miel and Sam are as strange as they are inseparable. Roses grow out of Miel's wrist, and rumors say that she spilled out of a water tower when she was five. Sam is known for the moons he paints and hangs in the trees, and for how little anyone knows about his life before he and his mother moved to town.
But as odd as everyone considers Miel and Sam, even they stay away from the Bonner girls, four beautiful sisters rumored to be witches. Now they want the roses that grow from Miel's skin, convinced that their scent can make anyone fall in love. And they're willing to use every secret Miel has fought to protect to make sure she gives them up.
This sounds like a departure from my usual reading and I'm excited. I haven't read much magical realism (I've always been interested but have been a little intimidated by the genre.) And I've been wanting read more books with trans main characters since reading If I Was Your Girl. This book comes highly recommended to me on Twitter, and I can't wait to read it.
Holding Up the Universe by Jennifer Niven (10/8)
Everyone thinks they know Libby Strout, the girl once dubbed "America's Fattest Teen." But no one's taken the time to look past her weight to get to know who she really is. Following her mom's death, she's been picking up the pieces in the privacy of her home, dealing with her heartbroken father and her own grief. Now, Libby's ready: for high school, for new friends, for love, and for EVERY POSSIBILITY LIFE HAS TO OFFER. In that moment, I know the part I want to play here at MVB High. I want to be the girl who can do anything. 
Everyone thinks they know Jack Masselin, too. Yes, he's got swagger, but he's also mastered the impossible art of giving people what they want, of fitting in. What no one knows is that Jack has a newly acquired secret: he can't recognize faces. Even his own brothers are strangers to him. He's the guy who can re-engineer and rebuild anything in new and bad-ass ways, but he can't understand what's going on with the inner workings of his brain. So he tells himself to play it cool: Be charming. Be hilarious. Don't get too close to anyone.

Until he meets Libby. When the two get tangled up in a cruel high school game—which lands them in group counseling and community service—Libby and Jack are both pissed, and then surprised. Because the more time they spend together, the less alone they feel. . . . Because sometimes when you meet someone, it changes the world, theirs and yours.
After reading Dumplin' I want to read more fat main characters who are defined by more than their body. Plus Jack's story line sounds equally interesting. I haven't read any of Niven's work previously but I've had my eye on All The Bright Places. 
Iron Cast by Destiny Soria (10/11)
It's Boston, 1919, and the Cast Iron club is packed. On stage, hemopaths—whose "afflicted" blood gives them the ability to create illusions through art—captivate their audience. Corinne and Ada have been best friends ever since infamous gangster Johnny Dervish recruited them into his circle. By night they perform for Johnny's crowds, and by day they con Boston's elite. When a job goes wrong and Ada is imprisoned, they realize how precarious their position is. After she escapes, two of the Cast Iron's hires are shot, and Johnny disappears. With the law closing in, Corinne and Ada are forced to hunt for answers, even as betrayal faces them at every turn.
This is a book I've been seeing arcs float around of for awhile on Twitter and Litsy. For some reason, I hadn't looked up what it was about, although the cover intrigued me. Turns out it's right up my alley with historical fiction and some fantastical elements.
My Unscripted Life by Lauren Morrill (10/11)
Sometimes love stories go off script.
Another sultry Georgia summer is about to get a lot hotter. Dee Wilkie is still licking her wounds after getting rejected by the precollege fine arts program of her dreams. But if she'd gone away, she wouldn't have been around to say yes to an unbelievable opportunity: working on the set of a movie filming in her small Southern town that just happens to be starring Milo Ritter, the famous pop star Dee (along with the rest of the world) has had a crush since eighth grade.
It's not like Dee will be sharing any screen time with Milo—she's just a lowly PA. And Milo is so disappointingly rude that Dee is eager to stay far away from him. Except after a few chance meetings, she begins to wonder if just maybe there's a reason for his offensive attitude, and if there's more to Milo than his good looks and above-it-all Hollywood pedigree. Can a relationship with a guy like Milo ever work out for a girl like Dee? Never say never. . .
I read Meant To Be by her way back when it was first released and really enjoyed it! For some reason though I haven't come across any of her books since that one. Until now. This one promises to be just as adorable as Meant to Be and I am so excited to read it.
The Secret Diary of Lydia Bennet by Natasha Farrant (10/25)
Lydia is the youngest of the five Bennet girls. She's stubborn, never listens, and can't seem to keep her mouth shut–not that she would want to anyway. She's bored with her country life and wishes her older sisters would pay her attention . . . for once!
Luckily, the handsome Wickham arrives at Longbourn to sweep her off her feet. Lydia's not going to let him know THAT, of course, especially since he only seems to be interested in friendship. But when they both decide to summer in the fasionable seaside town of Brighton, their paths become entangled again.
At the seaside, Lydia also finds exciting new ways of life and a pair of friends who offer her a future she never dreamed of. Lydia finally understands what she really wants. But can she get it?
I am a sucker for a Jane Austen retelling, good or bad. I watched every episode of the Lizzie Bennet diaries when they came out and though this book is completely unrelated, I'm excited to sink my teeth into another Pride & Prejudice retelling.
What are some October releases you're looking forward to reading? Have you read any of these? Let me know in the comments.